Welcome
Our purpose is to know the Lord God Almighty and the reality of His love
for us expressed through His only begotten Son, the Lord Jesus Christ;
and then to share that love with the world. It is our desire that you will
experience that love with us and help us to share His love with the
millions of souls who have not yet believed.

Our emphasis is on the perfect, powerful, and life changing Word of God,
the Bible. We believe that Jesus Christ is the answer for all problems that
people face. Therefore, every ministry or class of Grace Baptist Church uses
the Bible (KJV) as our only textbook and seeks to glorify only Jesus.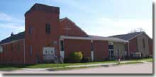 Location:

17376 Martin Road
Roseville, Michigan 48066
(586) 822-6310 Cell

Sunday Services:

10:00 a.m. Sunday School
11:00 a.m. Morning Worship
6:00 p.m. Evening Worship

Wednesday Services:

6:00 p.m. Teen Night
7:00 p.m. Bible Study
If the Lord leads you, we would love to invite you to find your spiritual home with us.
Grace Baptist Church stands for preaching the King James Version;
traditional godly music; and an outreach that makes a difference for
the cause of Christ.

Our outreach ministries consist of a tract ministry to give the gospel
to the cities surrounding our church and supporting mission projects
that emphasize church planting.

Our goal is to saturate our community with the gospel and heavily
support mission projects that train nationals to start Baptist churches.
A Word from the Pastor
Grace Baptist Church is conveniently located 1/2 mile from I-94 and I-696.
Click the map below to print directions from your house.


Bible Lessons in other Languages: